Dog bed foldable into a bag:
P•A•W dog travel beds provide both luxurious comfort for your dog and a stylish, effortless way for you as owner to travel. Available in a variety of elegant colors and sizes.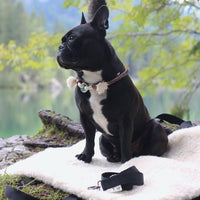 From dog bed to BAG
Where function meets fashion...
Regardless of what kind of everyday activities you engage in, the dog travel bed by P∙A∙W allows for a practical and fashionable way of travelling with your dog.
the multipurpose dog bed can be quickly folded into a stylish bag with side pockets, which can be used for storing all your dog's necessities while you are on the move.
Dog beds by P∙A∙W: High quality & handmade
All our dog beds are handcrafted and handstitched, making each travel bed unique and of excellent quality. Besides that, they are created with great care - and lots of love, too! Click here to read more about P∙A∙W and our passion for creating handy and beautiful dog beds.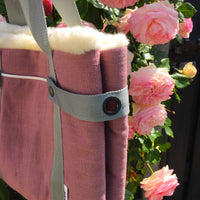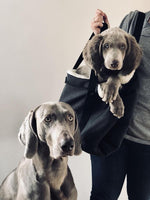 Did you know? Wool dog beds & their benefits
Since the surface of our dog bed is exclusively made with 100% natural Texel wool, a travel bed from P∙A∙W has many advantages for the welfare of your little (or big!) loyal friend.
The wool is moisture managing, thermoregulatory and water and dirt resistant, making our beds an essential accessory for your pet to rest and sleep comfortably anywhere.
Read more about where our wool comes from by clicking here.
Limited Edition: Walk in the woods
Craving those long walks with your dog in mother nature? Take our new cork travel bed "Walk in the Woods" with you on your next adventure!
Our dog travel beds come in a variety of colors. Pick your favorite!
Dog bed for on your BACK - how special is that?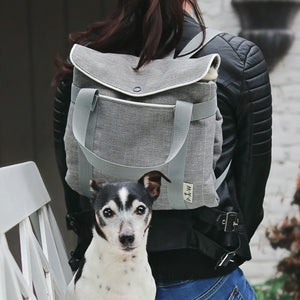 DOG TRAVEL BEDPACK by P•A•W
Dog beds: Whether you decide to go hiking, visit restaurants, or go on bike trips, they are ideal to take with you on your adventures with your dog! The stylish looking backpack combined with its great functional purposes make this dog bed a one of a kind product - even the biggest size bed is easily transformed into an elegant backpack.
GO HANDS-FREE!
NEW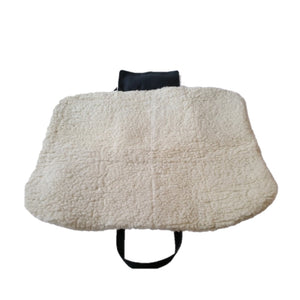 UNMATCHED SOFTNESS
P•A•W's Travel Bedpack gives your buddy the same soft wool surface to lie on as with our other dog beds, and it comes in the same three sizes. All Dog Travel Bedpacks are handmade and of high quality, and most importantly: extremely comfortable - they're easy to fold, too!
New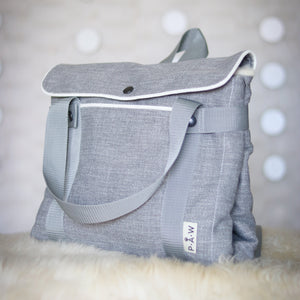 HANDY & FASHIONABLE
Just like a backpack, the new Travel Bedpack can be used to bring your dog's necessities with you whenever you are making memories together. It also has a front pocket for smaller items and even has handles so you can carry the dog bed over one shoulder, just like a handbag!
The P•A•W Dog Travel Bedpack comes in eight stunning colors and three sizes, and its unique design makes it a must-have for this coming year. 
NEW
"STYLE IS A WAY TO SAY WHO YOU ARE WITHOUT HAVING TO SPEAK"
Check out our photo gallery to see some beautiful pictures of dogs with their travel beds, taken by our customers.
Testimonials
Ordered size medium for my two Jack Russells. Very quick delivery, the quality is very good (...). Happy costumer and two happy dogs.

Monique B.
The travel bed is absolutely brilliant! (...).

Judith
The boys are loving their travel bed. It will be well used on our regular walks to the pub and during our travels in France (...).

Tracy